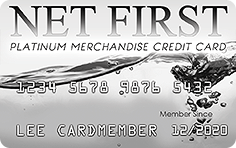 Net First Platinum
Credit Needed : Bad, Limited, No Credit
Credit Brand : Horizon
Annual Fee : See website for Details*
Intro Purchase APR : 0%
Regular Purchase APR : n/a
Rewards Rate : n/a
Overview
Instant Approval / $500 Credit Line!
No Employment or Credit Check
Reports to Major Bureau
Bad Credit, No Credit – OK
Always 0.0% APR
Fast Online Applications
Have you been denied credit in the past? Net First Platinum is available to help people meet their financial needs. Our fast and easy application could be just what you need. A $500 credit line could be available to you faster than you ever thought possible.
Terms & Details
The Net First Platinum card is a part of the Horizon Card Services family of credit products.
Since 2006, Net First Platinum has since established itself as one of our premier brands with thousands of highly satisfied card holders.
Please see Terms and Conditions for specific card features and benefits.
2.5 out of 5 stars (based on 2 reviews)
Try it out!!!
Not bad to try if u have bad credit!!
Need a loan bad
No one will give me a chance and I have job