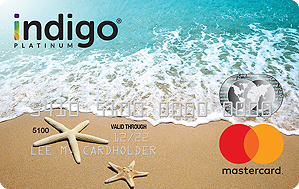 Indigo® Unsecured Mastercard® – Prior Bankruptcy is Okay
Credit Needed : Good, Fair
Credit Brand : Mastercard
Annual Fee : $0 - $99
Intro Purchase APR : N/A
Regular Purchase APR : 24.9%
Rewards Rate : N/A
Overview
Pre-qualifying today will not affect your credit score
Less than perfect credit histories can qualify, even with prior bankruptcy!
Mobile friendly online access from anywhere
Fraud protection for stolen or lost cards
Account history is reported to the three major credit bureaus in the U.S.
Terms & Details
Intro Rate : N/A
Intro Period : N/A
Regular APR : 24.9%
Annual Fee : $0 – $99
Balance Transfer : N/A
Credit Recommended : Fair/Good
Intro (Purchases) : N/A
Intro (Balance Transfers) N/A
Late Payment Fee: Up to $40.00
Overlimit Fee: Up to $40.00
Returned Payment Fee: Up to $40.00
0 out of 5 stars (based on 0 reviews)
There are no reviews yet. Be the first one to write one.