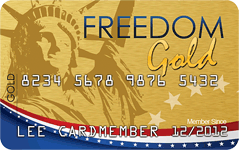 Freedom Gold Card
Credit Needed : Bad, Limited, No Credit
Credit Brand : Horizon
Annual Fee : See website for Details*
Intro Purchase APR : 0.00%
Regular Purchase APR : N/A
Rewards Rate : N/A
Overview
$500 Unsecured Credit Limit
Instant Approval*
No Credit Check
No Employment Check
Fast online application
Reports to a Major Bureau
Bad Credit – OK
You are pre-approved for a $500 unsecured credit line with the Freedom Gold Card! Sign up now, our application process is fast and easy.
Terms & Details
The Freedom Gold card is a part of the Horizon Card Services family of credit products.
Since 2006, Freedom Gold has since established itself as one of our premier brands with thousands of highly satisfied card holders.
Please see Terms and Conditions for specific card features and benefits.
5 out of 5 stars (based on 1 review)